Meet our outstanding crew of healing practitioners & associates
Katie Randall, Yoga Therapist & Shamanic Practitioner
Katie spent the first 12-years of her adult life holding space and working as a counselor, teacher and therapist for disadvantaged youth and children living with special needs. This offered her a foundation of inspiration into how she lives her life of service today. In her formal schooling she received a B.A. in Psychology from the University of Minnesota and an M.S in Yoga Therapy from Maryland University of Integrative Health. The most pertinent certifications she has received influencing her work today have been a 230-hr yoga teaching certification through The Yoga Center of Minneapolis, Teen Yoga through Karma Kids, Trauma Sensitive Yoga through the Trauma Center of Boston, and Yoga and Social Justice through Off the mat and into the World. Katie is also a certified Reiki practitioner.
Katie identifies as a Medicine Woman and Artist who has worked with Plant Medicine, Shamans and spiritual teachers in Latin America, Australia, Africa and the United States, revealing more insight into the path she has chosen to live. As an energy conduit, she merges her training from the Reiki Jin Kei Do tradition and Yoga Therapy with Shamanic energy work into her sessions and offerings. Her greatest teachings have come from the experiences of life, living internationally among various cultures and the day-to-day presence of being human. She currently facilitates meditations, drum journeys, workshops, retreats and classes based on a culmination of these teachings as well as one-on-one Shamanic Energy and Yoga Therapy sessions.
Click Here to read more about Katie's services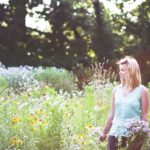 Ashley Davis, Herbalist, Co-Owner of Tonic
I was  led to herbalism from an interest in social and environmental justice, from a desire to lead a more sustainable & self-sufficient lifestyle that included being able to grow much of my own food and medicine. I took my first herbal medicine class while I was still in college in Vermont, studying anthropology & visual art. I immediately fell in love with the herbs and connections that I found between gardening, medicine-making, art, wellness & spirituality. After college I continued to study Permaculture and herbal medicine. I completed a 3 year clinical training program with Kat Maier through Sacred Plant Traditions. After that I began to see clients, teach workshops, and make herbal products from my home in Harpers Ferry, WV. During that time I completed a 500 hr certification in Ayurveda. Now in Shepherdstown, WV, I continue to deepen and expand my knowledge by serving my community through Tonic Herb Shop, where I see clients, teach workshops, and formulate products for the public. I continue to be fascinated by the connections between human and planetary wellness, between microcosm and macrocosm. I believe that much healing can take place simply by reconnecting with the seasons and what they have to offer.
Jurga Sauvageot, Herbalsit, Pharmacist, Co-Owner of Tonic
As a native of Lithuania, where allopathic medicine and herbal medicine are practiced concurrently, I was drawn to medicinal plants from early on in my childhood. This interest inspired my knowledge quest in herbal therapeutics and subsequently I became a pharmacist and herbalist. I  merge both disciplines into my approach to address health complaints or to maintain wellness. Although the majority of my hours are spent practicing pharmacy at the University of Maryland Medical Center, I attempt to incorporate many therapeutic aspects of herbal medicine in as many clinical situations as I can.
Since joining Tonic as a co-partner in 2018, I have experienced an exciting & professionally rewarding journey, bringing people closer to plants. At Tonic, I offer classes and one-on-one educational sessions to spread the knowledge about medicinal plants & herbal product making. I also give back to my alma mater, Shenandoah University School of Pharmacy, by occasionally teaching pharmacy students, introducing them to the fascinating world of herbal medicine. My goal is to educate the public about safe and effective use of herbal preparations.
When I am not in Tonic or practicing pharmacy, I spend my time growing medicinal herbs on a permaculture farm in Middletown, VA.
Joi Vogin, MS, CNS, LDN
I am a Clinical Herbalist, licensed Nutritionist, and Intuitive Wellness Coach with over 25 years of experience in the field of health and wellness. I have a solid background in traditional science, holding a BS in Biochemistry from St. Andrews Presbyterian College and an MS in Nutrition Science from the University of Georgia. Additionally, I completed a rigorous 3-year Clinical Herbal Medicine program where I obtained an MS in Herbal Medicine from the Maryland University of Integrative Health.
I offer Nourishment Sessions- individualized consultations that incorporate herbal medicine, dietary assessment, food energetics, plant spirit medicine, and intuitive wellness coaching.
I am available to see clients at Tonic on Saturdays. I also offer virtual consults, and see clients from my home office in Frederick, MD through my business Glowtime Wellness.
Click Here to read more about my serivces
Carmela Cesare, Herbalist, Reiki Practitioner, Co-Owner of Tonic
Carmela practiced public interest law for 22 years. Her law practice included defending indigent people in criminal and civil cases. Most recently she prosecuted felony cases. Having always maintained a keen interest in medicinal plants, in 2014 she competed her course work and received a Master of Science in Therapeutic Herbalism from the Maryland University of Integrative Health. Now, as co-owner of Tonic, she provides the community with ethically sourced, organic herbal products and herbal consultations. She also serves on the Jefferson County, WV Board of Health. She maintains memberships in the American Herbalist Guild and United Plant Savers
Meaghan Thompson, Clinical Herbalist
A lifelong student of nature, Meaghan grew up exploring the forests and fields around her home as much as possible. Through her studies to become a Master Naturalist she fell deep in love with the plant kingdom and their medicinal virtues. Beginning her journey in the Wise Woman tradition, Meaghan went on to study clinical herbalism at Sky House Herb School, followed by studying at Green Comfort School of Herbal Medicine. Spending two years working in the gardens at Sacred Roots Herbal Sanctuary deepened her relationship with the green allies she was learning about. Meaghan now sees clients for clinical consultations and runs a medicinal herb CSA in Capon Bridge, WV.